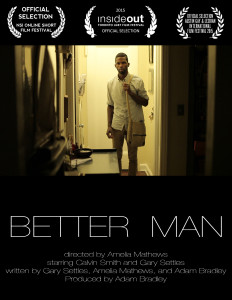 Completed March 2015
Against his religious mother's wishes, Eli goes out "for a walk" – in reality, to play pool with his friend James. He initially dismisses James' flirtations, but when he wins the game and James kisses him, Eli realizes that his feelings for James go far beyond friendship. Now, he must choose between who he was and who he is.
Better Man is about as guerrilla as it gets: two actors, cameraman, director. No lights, no sound (all dialogue is ADR), no permits, nothing. Just us, a 7D, and a pool table. It has been accepted into the Inside Out Festival, Canada's largest LGBT-focused film festival, as well as the NSI Online Film Festival.
Directed by Amelia Mathews
Written by Gary Settles, Amelia Mathews, and Adam Bradley
Starring Calvin Smith and Gary Settles
Cinematography and editing by Adam Bradley
Produced by Adam Bradley